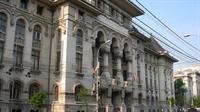 The plan for Bucharest's administrative reorganization has been cancelled, after city councilors voted 34 to 1 to repeal the decision to hold a referendum on June 26.
The memorandum of understanding signed by the councilors and sector mayors said "the draft law on Bucharest which called for the referendum no longer matches the city's current development requirements and is therefore out of date."
The councilors have decided to hold a series of debates, in order to find the best solutions for the Capital's administrative reorganization.
Read more on Mediafax.ro