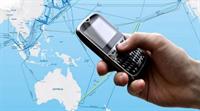 In around six years, the average duration of calls made from a fixed telephony line monthly shrank by around 1 hour, while time spent talking on the mobile phone registered a spectacular increase.
The average duration of calls initiated monthly from a fixed telephony line posted a dramatic decline in 2005-2010, from around 3 hours and 17 minutes in 2005, to 2 hours and 13 minutes in the first half of last year, according to the data provided by the communications regulatory authority.
The steepest decline was registered in 2008, when the average duration of monthly calls from the fixed phone decreased by over half an hour.
Read more on ZF.ro