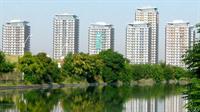 The sales team of the Asmita Gardens housing complex in Bucharest, which consists of over 800 apartments, has ended its activity, although nearly half the homes in the seven tower blocks built on Splaiul Unirii Avenue in the Mihai Bravu area are yet unsold.
The project, developed by India's Asmita and by a British investment fund, is among the largest in Bucharest, with around 420 apartments sold so far.
Atena Ţiplic, who used to be sales manager, alongside another three sales reps and an assistant, have left the project to set up a business of their own.
Read more on ZF.ro