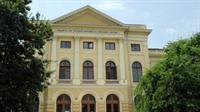 The 8th edition of the Museum Night event will be held on May 19 at nearly 3,000 European museums, almost 100 of which are in Romania. The National Network of Romania's Museums (RNMR), the official partner of the event at international level, will coordinate the activities to be conducted by the Romanian museums.
RNMR will organise a museum tour in Bucharest that was started off in 2008 by Romania's National Museum of Arts, with this year's novelty being a pilot Cluj-Napoca museum tour.
In Bucharest, visitors may choose to spend the May 19 night touring the museums that have been in the project since its inception or museums and cultural organisations that joined the event in 2011 and even in 2012.
Read more on Financiarul.ro