"Stop the Blackmail-Prone Government! Never This Way!" censure motion – first Ungureanu Cabinet is facing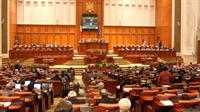 Parliament is debating and voting on Friday, in its plenum, the censure motion entitled "Stop the Blackmail-Prone Government! Never This Way!", initiated by the Opposition, the first such confrontation Ungureanu Cabinet is facing since installation.
For the motion to be adopted by the Parliament, 231 votes are needed, namely half plus one of all MPs (460). The Opposition claimed on Thursday that it has gathered 225 votes.
President of the Senate, Democrat-Liberal (PDL, main formation at rule) Vasile Blaga reiterated, on Thursday evening, in a televised talk show on B1 private TV station, that Ungureanu Government will not fall due to this censure motion. "The Government will not fall because of the censure motion tomorrow. (…) Both Opposition and the Power make efforts – some for the motion not to pass, others for that to pass. I believe that they do not have the 231 votes for that motion to pass. (…) Tomorrow the motion fails. Absolutely", Vasile Blaga underlined.
Read more on Financiarul.ro