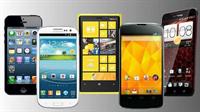 Sales of smartphones, mobile phones that allow users to surf the net, send emails, run games and listen to music, have surged, currently making up a quarter of Vodafone's mobile phone sales, says Andrei Oltei, terminal manager within the company.
"Whereas a year ago they accounted for 10% of the overall number of units sold, smartphones have now reached 25% and will continue to rise.
Last year, smartphones accounted for 15% of Vodafone's overall mobile phone sales," Oltei told ZF. Vodafone's management puts the increase in smartphone sales down to expanding the offers and cutting prices. "Now a smartphone that uses Google's operating system can cost as little as 19 euros plus a subscription. Increasingly more users are buying a smartphone, even if it's not a high-end terminal."
Read more on ZF.ro