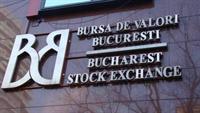 The public stock exchange bid for the package of the Romanian Transelectrica electricity supplier has all possibly successful spices, Bucharest Stock Exchange (BVB) president Lucian Anghel said on Wednesday when I began the bid to last over March 14-27.
omy. It is an extremely important signal to the investors that we are willing to develop this financing alternative, said Anghel, stressing that this manner of developing the economy's financing through the stock exchange, must be permanently endorsed, over the coming ten years.
The Government, on Wednesday, established the price to range between 14.9 and 19.2 per share for the investor's underwriting to be achieved during the Second Public Bid selling 15 percent of the share capital of the Transelectrica
National Company.
Read more on Financiarul.ro