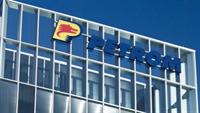 The bids submitted by six consortiums of banks and brokerage firms have been accepted by representatives of OPSPI (Office of State Ownership and Privatisation in Industry) and by those of the Economy Ministry in the tender to choose the broker for the secondary offering whereby the state wants to sell 9.84% in OMV Petrom on the Stock Exchange.
The seventh bid, made by the Citibank - BRD-Société Générale, was reportedly rejected because representatives of the consortium did not submit it before the deadline (yesterday at 12:00 AM), according to market sources.
The consortiums whose offerings have been accepted are: JP Morgan with BCR and Intercapital Invest, Morgan Stanley with Raiffeisen Capital&Investments, UBS and ING Bank, Goldman Sachs with UniCredit CA IB Securities, Nomura with Alpha Bank and CEC Bank and Renaissance Capital with BT Securities, EFG Eurobank Securities and Romcapital.
Read more on ZF.ro