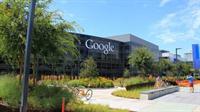 Google Romania is a full member of Internet advertising association IAB Romania, as of Monday, according to a press release.
As a member, Google Romania will be able to take part in the association's activities, including research, training, standardization, industry events, public affairs, operations and social media. The company may also run for management positions in the association's Romanian or European branches.
"Google opened a Romanian office to be a local player, to take active part in developing the online medium and thus it is only natural to join IAB. The Internet as a business and communications medium is developing quickly and IAB plays an important part in ensuring healthy growth," said Dan Bulucea, Google Romania country manager.
Read more on Mediafax.ro