Deutsche Telekom and OTE to present on Tuesday an offer for buying the states shares at Romtelecom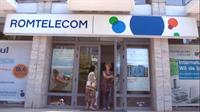 OTE group chief Michael Tsamaz and Deutsche Telekom Vice President will meet next Tuesday with Romanian authorities to discuss the possible acquisition of the state's shares at Romtelecom and will most definitely present an offer, Communications ministry state secretary Marius Fecioru said for HotNews.ro. On the other hand, market rumors said for HotNews.ro that the offer will be maximum 350 million euro.
The ministry officials will meet with the businessmen on Tuesday next week. After the offer is presented, the ministry will start its own evaluation of the shares and depending on the result it would either sell it or list it.
Read more on Hotnews.ro