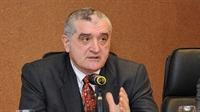 The administration council of the Bucharest Stock Exchange (BVB) decided to dismiss BVB general manager Victor Cionga from office, with his mandate expiring in two months, according to a release published on the BVB website.
"The BVB Administration Council made this decision given the fact that the restructuring process of the Bucharest Stock Exchange saw no significant progress, compared to the expectations of the administration council," the release says.
During the upcoming two months until the termination of his contract, Cionga will continue to carry out his responsibilities as BVB general manager, so as to insure a transition as smoother as possible to the new leadership.
Victor Cionga was appointed BVB general manager on July 18, 2012.
Read more on Financiarul.ro