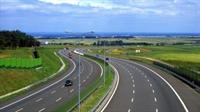 Paneuropean corridor IV, the priority objective of the Ministry of Transportation and Infrastructure over the next few years, could be fully completed as late as ten years from now, considering that the Sibiu-Piteşti section is still hanging in the air.
The Nădlac-Constanţa motorway, which crosses Romania from west to east has seen only around 280 kilometres completed of the over 850 it will ultimately have.
So, works are ongoing only for the Piteşti-Bucharest sections (111 km), Bucharest-Cernavodă (151 km) and Sibiu's ring road (20.8 km).
Read more on ZF.ro