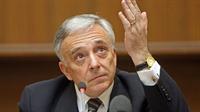 Romania's National Bank (BNR) has the same economic growth assessment like that by the International Monetary Fund, BNR governor Mugur Isarescu told a news conference.
'We do not have different expectations, but in exchange like the IMF and the Romanian Government experts, we think we have enough much incertitude, and this economic growth, which many see as a given thing, and sometimes as a variable, is in fact the outcome of very many factors, and there is incertitude about each of them. If you could tell me which the probable level of the EU funds absorption could be, at least we would introduce a variable of lower dispersion, instead one of very high dispersion,' Isarescu stressed.
The head of the IMF mission to Romania Erik de Vrijer recently said that Romania's economic growth will stand at about 1.5 percent in 2013, after is was almost zero, in 2012.
Read more on Financiarul.ro