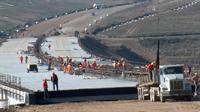 Romanian Prime Minister Emil Boc said Thursday that construction work on the Transylvania Highway will continue this year on two sectors, namely Gilau-Nadaselu and Suplacu de Barcau.
Boc said money from the state budget has been earmarked to pay off debts to American company Bechtel, the constructor of the Transylvania Highway.
The prime minister said public road authority CNADNR and Bechtel are holding talks on setting prices considering cost standards, as well as on overdue debts and payment schedule.
Read more on Mediafax.ro