Traian Basescu: Through private management I will shatter the trans-party interests in state owned companies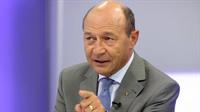 President Traian Basescu declared on Monday, in a special edition talk show at the public television TVR that Romania was stabilized macro-economically and is ready for a possible outbreak of the crisis. The President said that by appointing private managers in state owned companies he will shatter trans-party interests.
Romania will maintain its objective to join the euro zone in 2015, Basescu said but underlined that it is more important for the country to have a stable budget.
Read more on Hotnews.ro