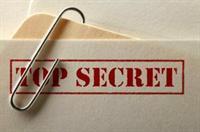 The prosecutors with the Directorate for the Investigation of Organised Crime and Terrorism are probing into a criminal group made up of Russian and Romanian citizens, after a Russian citizen was caught at Bucharest's International Henri Coanda (Otopeni) Airport on Oct. 19 while attempting to leave Romania by carrying documents and geological maps issued by the Romanian state authorities.
According to the Directorate, the documents contained classified information and data about copper and rare metals deposits at Moldova Noua and Suvorov mines.
The Directorate prosecutors say decision makers with Bucharest-based Ipromin SA Mining Research Institute disclosed to persons in the Russian Federation's business circles classified information and documents relating the copper and rare metals deposits in Moldova Noua (southwestern Romania).
Read more on Financiarul.ro