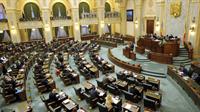 Romania's Senate committee for culture on Tuesday recommended that the plenum reject a bill that would force local radio stations to play Romanian music for 40% of their music playing air time.
The committee voted five to one to reject the bill, which is to be debated by the Senate in plenary.
Social democrat MP Victor Socaciu, a popular folk singer who initiated the bill, said the committee said this bill could work on public media outlets but private radios should not have their editorial content regulated by law.
Read more on Mediafax.ro