Romanian Economy Ministry plans to obtain 600 million euro by selling shares at Petrom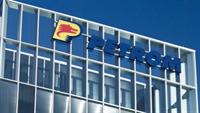 Romania's Economy ministry plans to obtain more than 600 million euro by selling the minority share pack of 9.86% of Petrom, Economy minister Ion Ariton declared on Friday quoted by news agency Agerpres. He said that the ministry hopes to make a successful business by selling its shares at Petrom.
PM Boc said in April that the state will sell its share at Petrom and will receive more than 670 million euro.
Read more on Hotnews.ro