Romanian Carmaker Dacia Might Cease Production For A Week Due To Car Parts Shortage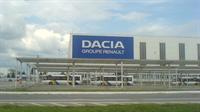 Romanian carmaker Dacia, owned by French group Renault, might cease production for a few days after Easter due to shortages of car parts from earthquake and tsunami-hit Japan.
Automobile Dacia Union vice-president Ion Iordache said Tuesday Dacia must adjust production as providers of car parts no longer receive parts from Japan.
He provided no details regarding the carmaker's production program in the next months.
Read more on Mediafax.ro