Romania To Provide Pensioners With Basic Food Products For Lowest Price Each Month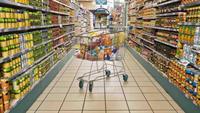 The Romanian "solidarity basket" program, approved by the Government, will provide pensioners each month with a package comprising basic food products, like flour, sugar, oil, corn and rice, for the "lowest price possible."
"Economically, the program is not a budgetary burden, there are no subsidies or financial support and does not impact VAT collections. It is only an additional organization effort on the part of local or central public administration bodies," says the memorandum approved by the Government to introduce this program.
Read more on Mediafax.ro