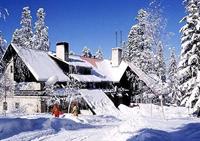 There were about 154,000 requests for the cable aerial lift points (at cable cars, gondola lifts, chair lifts and platter lifts) and more than 132,000 cars were reported in the major mountain resorts in Romania during the past weekend, reports the Ministry of Regional Development and Tourism (MDRT), according to data provided by local public authorities.
According to MDRT spokesperson Bogdan Oprea, the data reported last weekend represent record figures for this period in most resorts.
The top positions among the most crowded resorts (in terms of requests at aerial lift points) belong to Poiana Brasov, Predeal and Azuga, followed by Sinaia, Ranca, Straja, Borsec and Sugas-Bai mountain resorts.
Read more on Financiarul.ro