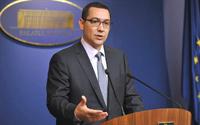 Romania's Prime Minister Victor Ponta said he will discuss with US lawmakers the need to lift visa requirements for Romanian nationals travelling to the US, voicing hope that his arguments will be useful.
Ponta said that lifting the visa requirements for Romanian nationals does not depend on US President Barack Obama or Vice President Joe Biden, but on the US Chamber of Representatives, as the US Senate already approved a bill to this end.
'And that is why I will have a meeting with some lawmakers, mostly Republicans, directly involved in drawing up the bill,' Ponta told RTV private broadcaster.
He added that 'nobody has anything special against Romania and Poland, but the big discussion on immigration legislation separate Republicans from Democrats almost irreconcilably." He added that he hopes a technical solution will be found to settle the issue.
Read more on Financiarul.ro