November 21 – 10 years since Romania received an official invitation to join NATO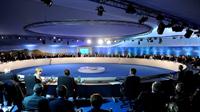 Romania marks, on Wednesday, November 21, ten years since it officially received the invitation to join the North Atlantic Treaty Organization (NATO).
The NATO Summit in Prague, held on November 21 and 22, 2002, meant an important step in the evolution of the most powerful collective defense organization in history.
Romania's participation in the peace-keeping and stabilization operations in areas of conflict, in the Balkans and Afghanistan, and its firm commitment to join the fight against terrorism were strong arguments for inviting Romania to join NATO.
At the Washington Summit, in April 1999, NATO reaffirmed the Alliance's commitment to invite countries of Central and Eastern Europe in the near future. Also, the Alliance presented a Membership Action Plan (MAP), which established a mechanism for individual preparation and evaluation of the candidate countries.
Read more on Financiarul.ro