Jeffrey Franks: Inflation to increase by 0.5 percentage points following the elimination of heating subsidies for the population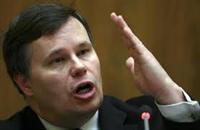 The government's decision to eliminate heating subsidies to the population starting this year will have an impact over this year's inflation rate that already reached 8.3% in April, IMF chief of mission in Romania said quoted by news agency Mediafax. He estimates that the impact on inflation will be 0.5 percentage points.
To estimate an increase of inflation by half of percentage point is not unreasonable, Franks said in an interview for Reuters.
Read more on Hotnews.ro