"Doctor" Franks: We have stabilised the patient, the challenge is the return to growth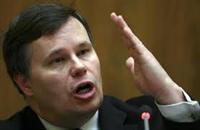 The goal of the new arrangement with the IMF is to encourage durable economic growth, says Jeffrey Franks, chief of the negotiation mission with Romania, after the measures decided with the authorities in the past two years failed to bring about the much desired exit from recession.
"The first challenge as far as economic growth is concerned has to do with arrears. (...) We have to eliminate structural barriers to economic growth, while at the same time stimulating investments and the creation of jobs," Franks said yesterday.
Read more on ZF.ro