Cristian Socol: Signals from the real economy and macroeconomic picture of Romania are positive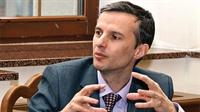 Economist Cristian Socol, adviser to Prime Minister Victor Ponta, believes that Romania recorded some important economic achievements in the past year, signals from the real economy of the country being positive, which proves that the mixture of fiscal, budgetary and monetary policies will do good in the future for the country.
'Romania's macroeconomic picture shows a qualitative fiscal consolidation and an intelligent mixture of fiscal, budgetary and monetary policies. This picture includes important achievements such as the biggest GDP in the post-December (meaning after the anti-communist Revolution of 1989 — editor's note) history of the country, one of the most important economic growths in the EU, the smallest budgetary deficit since joining the European Union, the smallest inflation rate, the smallest current account deficit after December 1989, as well as a historical minimum recorded in yields for external and internal loans', told the adviser to the Prime Minister.
Read more on Financiarul.ro