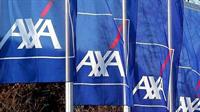 AXA Life Insurance, a company that entered the Romanian market last year, when French giant AXA took over Omniasig Life, plans to become one of the top five players on the life insurance market in terms of sales of new policies by 2014.
At the end of last year, the company had a 1.6% market share and ranked 11th on the life insurance segment, an around half a billion-euro market.
AXA yesterday officially launched its local operations after building their sales network and developing their portfolio of products in the last year. The French group also recruited a new management team in 2010, headed by Violeta Ciurel, former head of ING Asigurări insurer.
Read more on ZF.ro