As many as 40,000 foreign tourists expected at UEFA Europa League final, on Bucharest's National Arena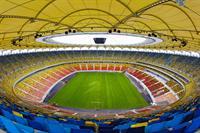 As many as 40,000 foreign tourists are expected in Bucharest, on May 9th, to watch the UEFA Europa League final, organized on the National Arena and tens of millions of people worldwide will watch the match on television, announced Bucharest Mayor Sorin Oprescu.
The general mayor also referred to the operation to replace the stadium lawn turf, saying it will be accomplished in a month, at the most.
Mayor Sorin Oprescu and Director of Investment Division Bogdan Hreapca said that the lawn turf is not guaranteed, but assured that it will be in best conditions when the football match will be played on May 9. According to Hreapca, the current lawn turf could have been further used, if it were not for the Europa League final.
"In the agreement with UEFA it is stipulated that we must come up with a perfect lawn turf", Hreapca specified.
Read more on Financiarul.ro